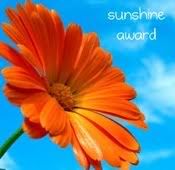 I was recently given the 'Sunshine Award'...which I was very excited about...from Heather at
Acting Balanced
. But there are rules to the game I must obide. Yup, that's right. I must pass on the bloggin love! (Does anyone know where these come from, by the way? I've been searching, and searching, and can't find anything! UGG!)
Here are the rules:
- Put the logo on your blog or within your post.
- Pass the award onto 12 bloggers.
- Link the nominees within your post.
- Let the nominees know they have received this award by commenting on their blog.
- Share the love and link to the person from whom you received this award.
Choosing 7 people is hard, I gotta tell ya!! I'm thinking...I'm thinking....
1)
A Daily Scoop of Chaos
: Doesn't everyone feel that way? She's got her hands full and still seems to find the humor
2)
Baby Mama Drama
: She's about to have a baby!!! Check out her journey to motherhood
3)
Balanced Moms
: I love this blog. She's all about decluttering the clutter, but still finding time for herself. Love it :)
4)
Creative Attempts
: Such a little Martha Crocker. Everything she comes up and makes looks wonderful!
5)
Humes Party of Three
: Danielle is just the sweestest person! I love reading her blog and seeing all the great pictures of her beautiful daugher!! She's realistic and has a great sense of humor.
6)
Things I can't Say
: Shell tells it like it is and I love it. Great informative posts with a great sense of humor.
7)
I've Been Thinking
: So true to herself and honest. I love blogs that are straight shooters and have a sense of humor. And her lil one is just too cute! 8)
Happy Blogging! :)