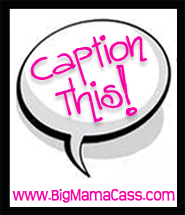 The Small print….
Now for the rules (which I have chosen to create for the "special" people who need the extra hand holding) You're welcome:
1. You have to caption the above picture in the comments below. And be funny er somethin, nnkay?
2. Go find a pic that you have that you didn't "find" on the internet and post it on your blog
3. Grab the Caption This button from the right sidebar and put it on YOUR blog with the photo
4. Copy your blog address to direct people directly to the caption this blog you are posting
5. Not your main blog address dillweed!
6. Paste the link into the Mister Linky on Mama Cass' blog!.
7. Go and visit the other blogs that have linked up below. Cause it's nice. And we are nice here. Right?