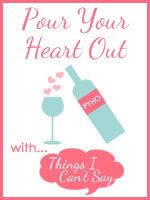 I have never participated in this before, but have written the same post in my head over and over. I figured it was about time to just go ahead and do it. If it makes some people upset or a little worried, I'm not worried about it and it's my blog. Hey, pour your heart out, right!?!
If any of you are like me and you love the shows 'Brothers and Sisters' and/or 'Parenthood' then you know that these families are extremely close. Maybe at times a little too close and you're thinking to yourself, shut up! But hey, they are family and at least they talk. Now I don't want my family to be completely all up in my business, but I do like having them around. Most of the time! But they know what is going on with each other, why they are upset, new things happening in their life. They say things with honesty even if it is going to hurt someones feelings. HONESTY.
My family isn't all that close. My immediate family, yes, but extended family, I forget that I have any sometimes. So, this is what kills me. As many of you know, my son Davis is now 9 months old. I think that's a good amount of time to pick up the phone and write an email saying congrats or anything. I have a certain family member that hasn't so much as picked up the phone and called me, written me an email, facebooked me, nothing. What is worse, is they have a house in the same city that I live in and haven't bothered to contact me. Hence the whole, my family is not close, bit. I hate it and it sucks. I don't know what the deal is. Does no one care to remain/stay/try and be close? I always wanted my children to have a large, close knit family and it's not looking that way. I have only one cousin that I am in contact with and that's it. It just makes me sad. It's very disheartening to me. I honestly think now at this point, if I was contacted, it would be because someone told them to and I wouldn't have much to say. I am pretty much at this point over it. I don't mean over it in the sense that it doesn't hurt, I mean over it. Why worry about having a relationship with someone that doesn't want one. I wash my hands of it.
Family issue #2. Be honest. I hate when people try and tip toe around issues in fear of what someone is going to say. A lot of times, family members don't tell me things, or wait until later to tell me something (which I always know anyway) for fear of what I will say. I never say anything to try and hurt someones feelings. I am honest with you and say these things because I care about you. If I didn't care, I would keep my mouth shut and nod my head. What good would that do anybody? I wish more people had this same mentality. Just tell it like it is. If someone doesn't like it, who cares. If they get mad, at least you know how they felt about the situation.
I absolutely love and adore my family and couldn't ask for a better relationship with them. We all have a pretty close knit bond which amazes and I would do anything for any of them. My sisters are my life line, and my parents and both tremendous for support. But what family would be a family without a little drama? :)