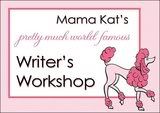 (I will amaze myself if I can actually think of 100 things. They are in my head somewhere, but I have to find them)
1. Learn how to bake besides homemade cookies and without using a box
2. Learn how to sew and make some cute kids cloths
3. Go horseback riding on the beach with out a stupid instructor
4. Go back to Europe...anywhere
5. Visit Ireland. Find relatives. Stay for free
6. Find a way to complete, start, do our family tree
7. Get more involved in church
8. Read more of the Bible
9. Join the choir because I love to sing
10. Be in a play.
11. Be a teacher/volunteer in a VBS class
12. See a live rain dance again and learn if it was just coincidence
13. Spend the entire day outside with my kid/s. Picnic, playing, and exploring
14. Travel. Go the airport and pick a place and go for it.
15. Join Red Cross
16. Serve food at the food shelter or food bank
17. Have a monkey until it gets older and wants to beat me
18. Be more patient
19. Sing chareoke
20. Meet Ellen. Have to meet Ellen
21. If can't meet Ellen, have to go on her show!!!
22. Become a part of March of Dimes besides walking
23. Meet a monk
24. Swim with the dolphins
25. Write a book and pray someone actually reads it
26. Learn to garden better and not kill my plants
27. Go on vacation and stay in one of those kick bootay tree houses
28. Make sure to have a lot of nets in tree house
29. Have an orchestra play under the Eiffel Tower and slow dance.
30. Preferably slow dance with Michael and not by myself.
31. Have my boobs magically reappear. I don't want surgery, but maybe magic powder!!
32. Have my mom belly leave me.
33. Raise healthy, strong, and independent children
34. Learn to be more patient. Not so good with this.
35. Bounce on a pogo stick in the aisles at Toys R Us
36. Buy baby clothes for someone at don't know at a store
37. Drive a race car. I'm drawing a blank...but that has been in Nascar
38. Don't die driving the car.
39. Go para sailing
40. Go deep sea diving
41. Ride a horse that has been in Kentucky Derby
42. See all of the Cirque de Soleil shows
43. Submit some of my ideas for kids books
44. Open a store that has paper products. Stationary, wedding invites, and gifts
45. Have a pastry shop. After I learn how to bake
46. Zip line. Woo hoo!
47. Tell people that make some of these insurance commercials they are idiots
48. Win a photography contest
49. Learn more arts and crafts
50. Set up a arts and crafts booth at fair
51. Pay off my student loans
52. Be able to have family vacations once a year. Fun ones
53. Go on a Disney cruise just bc they also have kids activities. Alone time!
54. Make a family tradition for us and stick with it.
55. Do a better job of keeping up with Davis' baby book
56. Get pictures printed before 8 months goes by.
57. Go to the beach for our anniversary and renew our vows with close friends
58. Have a home makeover
59. Revamp all of our closets, drawers, everything!
60. Learn to dance so I can actually dance with my husband
61. Get the 'My So Called Life' series and watch it one weekend
62. Have our 20's themed costume party.
63. Redo our backyard
64. Give my dog better attention
65. Take cooking classes
66. Enter a cooking contest
67. Dance in front of a group of people like it's a normal thing to do
68. Adopt a child
69. Become a member of CASA
70. Reconnect with old friends and stay connected
71. Have a friends reunion
72. Learn how to speak Spanish so we can teach our son
73. Attend Bloggy Boot Camp or BlogHer. Sponsor?
74. Drink hot cocoa in the mountains
75. Sleigh ride in the mountains
76. Hit a random person with a snowball from moving sleigh ride
77. Meet the Pope
78. Have a massage outside
79. Have a kick bootay clientele for aesthetics
80. Have a lake house
81. Own jet skis
82. Eat as much pizza I can and not gain a pound
83. Volunteer at a orphanage
84. Have old classics for my kids to read
85. Have old black and whites like original Little Rascals for kids
86. Be a room mom
87. Involved in kids clubs. Boy Scouts, Girl Scouts
88. Have my blog gain a ginormous following
89. Write with importance and value
90. Read to kids at story time
91. Not worry about health issues
92. Be in a Luau and pretend I'm a native
93. Donate a huge sum to a charity I'm passionate about
94. Find Mr. Wilson, my old math teacher, and tell him he helped me tremendously
95. Have casino night at my house
96. Sell Stella & Dot jewelry
97. Become a wine snob
98. Take a creative writing class
99. Learn from my children
100. Mark things off this list