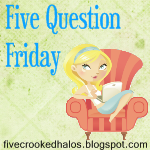 My posts have been sporadic lately. I am feeling consumed at the moment trying to get my
Stella and Dot
launch party going, that I can't think! My mind will be back in a few days!
Here's the questions! You should do the same and go link up!
1. Do you collect anything? Wine corks! I've been on a mission to make a wreath for some time now, but goodness do you need a lot of corks!!!
2. Name 3 celebrities that you find good looking. Ryan Reynolds, Jude Law, (I know, the cheating ass) and Bradley Cooper
3. Do you have any scars? If so, what's the story behind it (them?)? A very small one on my arm. I had a cast when I was little and the inside itched sooo bad! My genius self decided to stick a retractable pencil in there, causing the lead to break off! Yuck!!
4. What is a food that you like to eat, but others might think it's gross or weird? Fries with mayo, eggs with ketchup, ruffles with mayo or mustard
5. Have you ever seen a tornado in real life? Yes. We were little and about to leave a restaurant and there was a (tiny) tornado outside. Of course I thought it was cool at the time!
Don't forget my jewelry giveaway!!!